The Memorial Garden is a loving place of Remembrance, Tranquility and Solitude. It was created to serve the needs of our church members, former members and their family.
The PCBV Memorial Garden contains a Scattering Garden, a Columbarium, and a Memorial Wall.

Memorial Wall: The Memorial Wall is for Memorializing any church member, former member or family member with a final resting place other than the PCBV Memorial Garden.
Scattering Garden:  The ashes or cremains of any church member, former member or family member maybe scattered in the Scattering Area.  There is no charge for this.  If desired, a  name plate may be ordered through the church office for a small charge and a member of the Memorial Garden Committee will attach it to the Scattering Garden Plaque.
Columbarium:  The Columbarium is available for the internment of cremated remains of a church member, former member or family member.  Please contact the Pastor for additional information and pricing.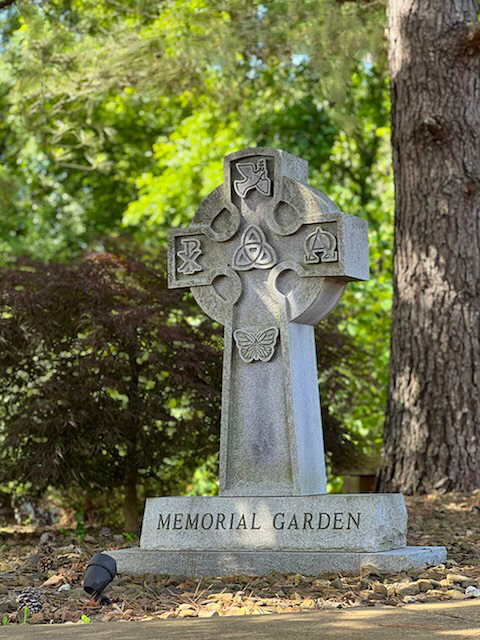 Advantages of our Columbarium & Scattering Garden:
A columbarium allows God's people to be buried (Interred) on church grounds.
Historically the church has been the final resting place for its members. We offer this advantage at the Presbyterian Church of Bella Vista.
Rising costs of a conventional cemetery burial has made cremation a popular alternative. Our not-for-profit status provides the lowest possible costs.
For most of us, Bella Vista is now our home. This church is a major part of our lives. Why not select our columbarium as your final resting place?
For additional information and pricing, please contact a Memorial Garden Committee member or a pastor.
Memorial Garden Information:
The Memorial Garden was started as a vision for our church.
The Scattering Garden, completed in 2012, was the first part of the vision to be completed.
A Memorial Garden Committee was formed to develop a Master Plan and raise funding to enhance and expand the Memorial Garden offering. After two years of work the current Memorial Garden was completed in December 2015.
A Master Plan is in place which contains additions for more Columbarium and Memorial Walls as well as additional pathways and meditation areas.
Funding for the Memorial Garden came from Member Gifts and various committees within the church.
Additional funding comes when "Memorial Garden" is written on a check or envelope of money in memory of a deceased friend or family member.
It was created as a place of peace and remembrance for our members and as a legacy for future generations.
Please take time to visit the Memorial Garden in the island located directly across from the Sanctuary entrance.