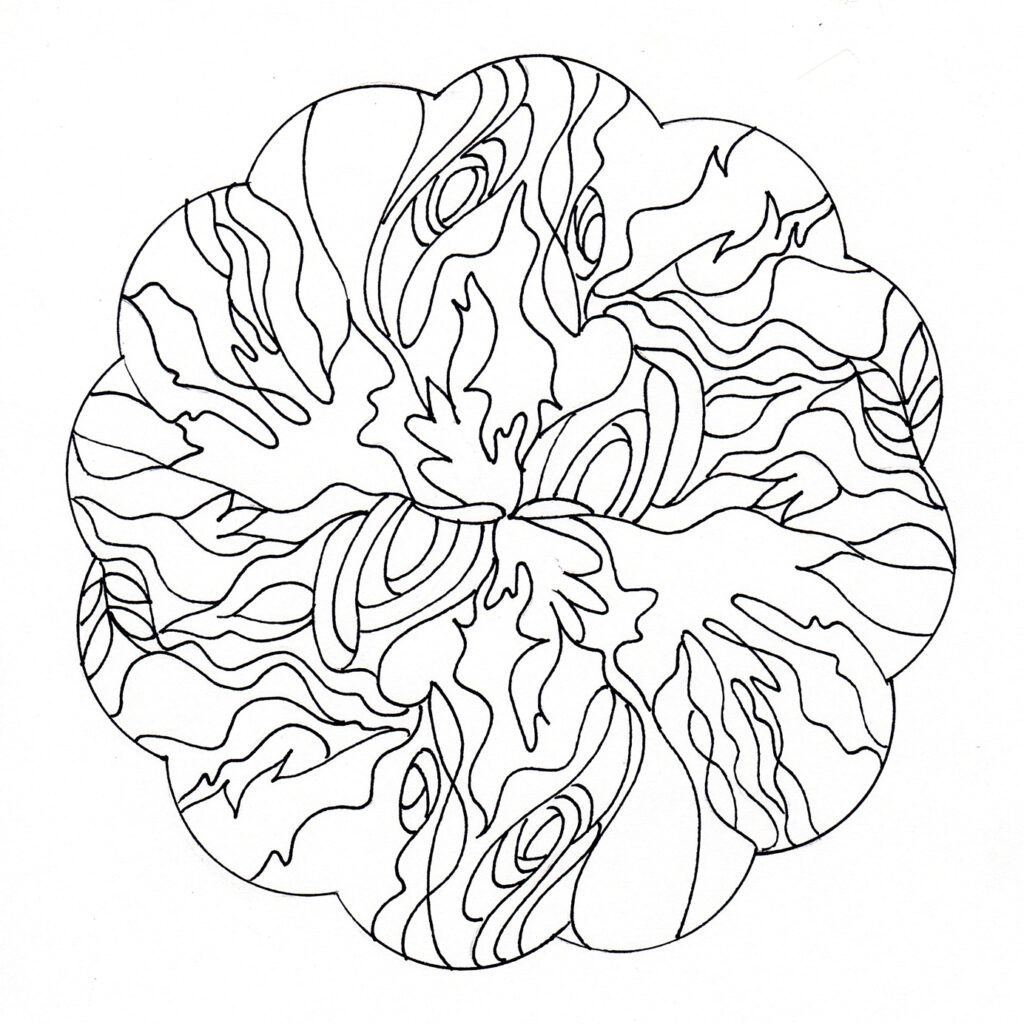 Pentecost Mandala by Rev. Dr. Judi McMillan.
Pentecost Mandala for Spiritual Reflection
By Rev. Dr. Judi McMillan
Mandala means "circle" and comes from the Indian cultural language of Sanskrit. All religions use circles as a means of exploring relationships, centering in the self, seeking what is spiritual, dancing, congregating, and imagining God.
Sometimes it is nice to draw from the center to the edge and play with lines. I drew this mandala freehand and then traced it once to complete the other half. You can see within this Pentecost mandala images for the Spirit like birds and flames, eyes, wind, flowers, and growth. As you color this mandala, imagine the Spirit moving through the waters of creation, gliding over existing pathways and creating new ones.
How does Jesus Christ express love to you?
What does it mean to be filled with the Holy Spirit?
The spiritual life is one of paying attention, to the hurts and needs of the world, but also the inner landscape of our own longings. For what are we thankful? Pray about that as you ask the Spirit to guide your decisions. For what are you longing? Friends or time with family? A trip to visit a loved one or a special place? Color the mandala and reflect as you do on the strong impulse of love and the Spirit divine who gifts us with ways to continue loving in a world that so needs peaceful neighbors.
You may use this mandala as bulletin covers, enlarge it for coloring pages, or take it and color it on your computer or iPad and send us your completed version! Share to the PCBV Instagram account and tag it #pentecostpcbv.
Here are some scriptures to remember as you color:
And the earth was without form, and void;
and darkness was upon the face of the deep.
And the Spirit of God moved upon the face of the waters.

– Genesis 1:2
When the day of Pentecost had come, they were all together in one place. And suddenly from heaven there came a sound like the rush of a violent wind, and it filled the entire house where they were sitting. Divided tongues, as of fire, appeared among them, and a tongue rested on each of them. All of them were filled with the Holy Spirit and began to speak in other languages, as the Spirit gave them ability.

– Acts 2:1-4
When he had said this, he breathed on them and said to them, "Receive the Holy Spirit.
– John 20:22
From the book Mandalas for Power and Energy, by Marion and Werner Kustenmacher, 6.